Do you sometimes have stomach pain after eating? Is it accompanied by excessive gas and bloating or burning? There is actually a scientific term for this common condition. I'm talking about dyspepsia. What is dyspepsia? Dyspepsia defined as unpleasant symptoms related to the malfunctioning of the digestive system.
Around 30 percent of the population suffers from dyspepsia, digestive problems. If you suffer from it yourself, you want to know how you can prevent unwanted symptoms.
Good news – there are some very effective natural remedies to reduce stomach pain after eating or while eating.

Possible Causes of Stomach Pain After Eating
Bad eating habits and lifestyle choices
Drinking too much (alcohol, soda, coffee)
Infection such as H. pylori (stomach bacteria)
Eating too fast
Eating too much at once
Drinking too much alcohol
Spicy food
Fatty or greasy food
Voltage
To smoke
Consuming fiber-rich foods 
Andere mogelijke oorzaken van maag pijn na het eten zijn medische aandoeningen.
To swear
Chronic acid reflux (a condition in which acid-containing contents in your stomach constantly leak back into your esophagus)
Hiatal Hernia
Gallstones 
Pregnancy (especially late term)
Pancreatitis (pancreas makes enzymes to digest food). A blockage of the pancreatic duct due to gallstones can be a typical cause abdominal pain. 
Gastritis (chronic gastric mucosal inflammation) 
Maaginfecties zoals Helicobacter pylori
Food poisoning
IBS (Irritable Bowel Syndrome)
Gastroparesis is a stomach disorder in which food is digested with a delay, often in diabetics)
Food allergies or sensitivities
Thyroid disease, especially in hypothyroidism. The thyroid is the conductor of your digestive system. It has a direct influence on the production of stomach acid and various enzymes.
Depression. Stomach problems are not only part of the physical symptoms of depression, but can also indicate problems of anxiety, for example. In some cases, this can lead to stomach and intestinal complaints.
Indigestion or stomach pain after eating can also often be caused by medications such as NSAIDs, antibiotics, steroids, and birth control pills.
Other drug triggers include thyroid, cholesterol, blood pressure and painkillers. 
Maag pijn na het eten. Gastritis.
Maagontsteking (gastritis) – een knagend of branderig gevoel dat tijdens het eten beter of slechter kan worden.
De ontsteking en symptomen veroorzaakt door gastritis zijn vaak het gevolg van een bacteriële infectie die na verloop van tijd ook de meeste maagzweren veroorzaakt.
Het gebruik van alcohol of bepaalde pijnstillers – zoals aspirine of niet-steroïde anti-inflammatoire geneesmiddelen (NSAID's) – kan meer pijn veroorzaken. Symptomen van maagontsteking zoals terugkerende maagklachten, opgeblazen gevoel, pijn, hikken en braken van bloed mogen niet worden genegeerd, omdat gastritis kan leiden tot een verhoogd risico op maagkanker.
Sommige geneesmiddelen kunnen maagpijn veroorzaken, waaronder antibiotica, ijzersupplementen, sommige cholesterolgeneesmiddelen en chemotherapie
Kruiden gebruik tegen maagpijn na het eten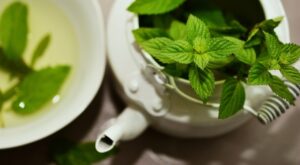 Zoethoutwortel kan pijn verminderen en de afscheiding van maagslijm en de activiteit tegen maagzweren verbeteren (activiteit tegen de bacteriën die zweren veroorzaken, Helicobacter pylori).                       

Zwarte komijn kan worden gebruikt voor de behandeling van misselijkheid, winderigheid, diarree en dysenterie (een ernstige spijsverteringsinfectie van de darmen).                                                           

Basilicumblad kan maagzuur verminderen

Gember heeft anti-kanker, antibacteriële, krampstillende en ontstekingsremmende eigenschappen.

Mastiekgom kan effectief zijn tegen spijsverteringsstoornissen.

Pepermunt – muntblaadjes of een snuifje olie of extract

Thee, zoals kamille, pepermunt of gember.

Appelazijn om maagklachten te kalmeren, met of zonder honing. Alleen als je geen maagzweer hebt.