Helicobacter pylori symptoms and natural treatment
Helicobacter pylori (H. pylori) is a spiral-shaped bacteria.

 

It causes chronic inflammation and infection in the stomach and / or small intestine.

 

This type of bacteria often forms an ulcer somewhere in the digestive system, often in the stomach (ulcer) or small intestine.
What are the H pylori symptoms?
The majority of people with H. pylori have no symptoms. The others may have:
More serious symptoms of H. pylori:
Nausea and vomiting with blood
Severe or persistent stomach pain
Dark or tarry stools
Bad breath
Anemia (low number of red blood cells)
Decreased or loss of appetite
Helicobacter pylori contagious to partner?
Yes, the infection with Helicobacter pylori is contagious not only for the partner but also for the others. 
The helicobacter bacteria is a common pathogen that can cause a variety of illnesses, from stomach ulcers to gastritis and even more serious conditions.
While it's true that it can be contagious, it's important to understand that not everyone who comes into contact with it will get sick.
A healthy immune system and a healthy intestinal flora can make the difference between getting sick or not.
What are the precautions against Helicobacter pylori?
If you suspect you may have a Helicobacter pylori infection, it's definitely worth getting an H. pylori test as soon as possible. 
If you experience any of the following symptoms, you should definitely seek emergency medical care:
Problems with swallowing
Persistent or severe stomach pain
Blood or black vomit
Vomit that looks like coffee
Black tarry or bloody stools
Persistent gnawing or burning pain in the area under the ribs that improves after eating,
Drinking milk or taking antacids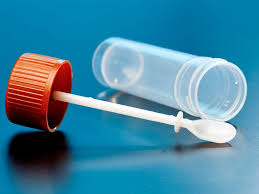 Diagnosis Helicobacter pylori
To diagnose the Helicobacter pylori infection, have your doctor / therapist perform an examination. This can be done via breath test, blood or stool test. We use a stool test to find Helicobacter pylori.
In fact, more than 50% of the population has that stomach bacteria present, but not everyone has it. Make sure you have healthy gut flora that will help strengthen your immune system and make you less susceptible to infections.
For more information or intestinal flora test contact me for personal advice
Treatment of Helicobacter pylori with drugs
Traditional treatments for Helicobacter pylori infections, such as antibiotics, are largely ineffective and can cause a variety of side effects.
While antibiotics can help control the infection, they don't address the underlying cause of the problem.
The other added "free" drugs are usually antacids. 
Why multiple antibiotics?
Conventional wisdom says that a single antibiotic may not kill the bacteria, so they use at least two at a time.
Own experience with the treatment of helicobacter pylori without medication
Years ago I got infected with helicobacter, which caused the ulcer. Not a nice experience I must say 🙁
My doctor said that I probably had to repeat the course 3 to 4 times with antibiotics to get rid of the helibacter bacteria. He said there are no other treatments….JThe body and your intestinal flora would not be happy with this cure! 
Being a holistic therapist and also the stubborn one 🙂 I opted for a longer yet natural method to naturally tackle h.pylori. And it worked!!!!! 
I not only treated helicobacter but also cured the stomach ulcers and everything on a natural basis. In addition, I lost a few kilos, gained more energy and a nice feeling in my body. 
Could I have gotten that with antibiotics? Never! 
Gastric acid inhibitors for too little stomach acid. Does that make sense? Symptoms of Helicobacter pylori
For good digestion the acidity of the intestinal flora should be between 5.8 and 6.8 pH and of the stomach between 1 and 3 pH. In many cases people with the bacterial infection have more alkaline (basic) acidity of the intestinal flora (6.8 pH or higher) and of the stomach above 3 pH.
Those bacteria make waste products and this causes too little gastric acid in the stomach.
You need enough stomach acid to digest food.
Due to too little stomach acid the mash in the stomach and small intestine starts to ferment and rot. This creates gas and causes bloating and belching.
Your stomach starts to protest this delay and tries to find a way out. This allows the lower esophageal sphincter to open, allowing food slurry to back up into the esophagus. This gives that burning sensation. So this is a sign of a lack of stomach acid. If you have too little stomach acid due to the bacteria, you will get a heavy and painful feeling in the stomach.
Gastric acid inhibitors for too little stomach acid. Does that make sense?
Symptoms such as heartburn, to burp, leaky gut syndrome, irritable bowel syndrome, skin problems or lack of certain nutrients (because they are not absorbed) are these important warnings that you have low stomach acid, so more basic.
Natural Treatment of H. Pylori
In my practice, a perfect combination of herbs, enzymes, pre- and probiotics (healthy bacteria) and anti-inflammatory agents are used to combat Helicobacter pylori and stomach ulcers to cure.
Do you want your intestines to function optimally again and thus boost your health? Then I hear grain from you!
Helicobacter pylori treatment experiences
Dear Elena, I'm glad I found you online. I looked for someone who could help me with the Helicobacter Pylori stomach bacteria, because after more than 10 years and several antibiotics I couldn't get rid of it. And now to have developed several other complaints. I look forward to the next steps we will take. Your knowledge, skills and how you think along is something I don't often come across. I cannot describe in words how happy I am. Thank you for being who you are. Lots of love
Before I came to Elena I had been suffering from my stomach (helicobacter) and intestines for more than 6 weeks. The doctor's course of antibiotics did not work and he wanted to start a second (double) course. Then I started looking for a healthier alternative and found Elena. She was able to meet immediately (was very flexible) and the herbs & supplements caught on after just one day (!). She also communicates clearly and tells you exactly what to order; very nice. Thank you Elena!
What I found special about Elena was that she can easily combine scientific insights with alternative medicine and spiritual ways. I actually came in with an inflammation in my hip. To my surprise I was told that I had problems with my intestines, intestinal flora, etc. I was skeptical but wanted to find out everything. However, the examination showed that I had a wrong intestinal flora, inflammation, leaky gut and other things. Now, a few months later, I have more energy, less pain, have also lost weight (a good side effect). I would say listen to your intuition! I'm really happy with it 🙂
helicobacter pylori symptoms fatigue
h pylori treatment success stories
Helicobacter pylori contagious partner
Helicobacter pylori symptoms
Helicobacter pylori treatment alternative
treat helicobacter pylori naturally
treat h pylori naturally
helicobacter pylori palpitations
stomach bacteria fatigue
h pylori symptoms
helicobacter pylori what can you do
I don't like helicobacter