Especially for menopausal women
Get started together! Fast and healthy weight loss including belly fat!
7 day weight loss challenge with fellow sufferers
What are you learning:
Proper nutrition
Eat moments
Correct exercises (also lose belly fat). Do short exercises together, also at home
Importance of healthy gut flora
Relax moments
What do we measure:
Condition level
Muscle mass
Fat mass
Belly fat
Moisture
Organic age
What do you get from me:
Explanation
Tips, advice and motivation
Do exercises together
Measurements
Why am I doing that?
In August we came back from our holiday from beautiful Italy with a few kilos too much 🙁
My husband said he can lose these pounds in a week.
So I challenged him.
Theoretically, it is not possible, especially for menopausal women, to lose 2-3 kilos in a week.
Originally men have more muscles than women and therefore have faster fat burning. Not fair!
The only advantage of mine was that I have more knowledge about nutrition and I can combine that with the right exercises to increase metabolism.
Despite the fact that he cycles a lot but does not pay close attention to his food, I was able to beat him after a week! What a nice feeling.
Do you also want fast results, belly fat and a tighter body? Do you want to learn about proper nutrition combined with exercises, ask questions to the expert and challenge your fellow sufferers?
Then this 7 day challenge is for you !!! 🙂
When:
Meeting 1 - 24 October at 4 pm
Meeting 2 - 31 October at 4 pm
(would you like to come but not at these times let me know, we will find a solution 🙂
Where: Walravenstraat 5, Valkenburg (In the building of Valkfysio)
Clothes: loose clothes and sturdy shoes to be able to do exercises for 10 minutes.
Duration of the meeting: 60-90 min
Investment: 10 Euro p / p (per meeting)
I hope to see you soon.
Greetings,
Elena
The result of a 7 day weight loss challenge (With my husband)
None of us lost 2 pounds. But I lost 1% fat mass and gained 0.2 pounds of extra muscle. My husband has lost 0.8 % mass and lost muscle mass himself at 0.4 pounds. So I won it !!! However, it is possible to beat even men with muscle.
We will continue to compete with him 🙂 A good motivation to stay in good shape.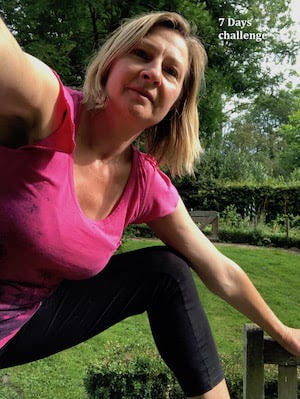 After 30 days of our challenge
I lost 2.2 kilos and 1.3% fat, especially belly fat, a few centimeters over my body and gained 0.6 kg muscle mass! That's more important than just losing weight. Because muscle mass is heavier than fat mass. I am a size less !!!!
My husband lost 1.8 kilos and 0.8% fat (including belly fat) and gained no muscle mass
So I have already won!
So ladies we can beat muscular men! Join us!
PS: Individual guidance is of course possible