Why green leafy vegetables?
Do you suffer from: Headache? Problems sleeping? Skin rash? Fatigue? Problems maintaining your weight?
Anything green contains a lot of chlorophyll (the green dye in the leaves), especially the leafy vegetables.
Chlorophyll binds waste products so that they can be removed from our body. It is a strong energy supplier, improves oxygenation and improves the acid / base balance in our body.
Cleanse and detoxify with green smoothies
Vegetarian food for a short period of time promotes detoxification. Those who are looking for better health and do not want to be dependent on medicines will welcome a change in diet with open arms.
Benefits of green smoothies
It's a great way to bring in extra vegetables! My daughter loves the smoothies. I can put almost anything in the blender now and she will drink it all 🙂
If you are not a smoothie drinker, start with something simple like a handful of green leaves with the banana and a glass of water. Toss everything in the blender and it's ready to enjoy!
Green leafy vegetables in osteoporosis
Did you know that leafy green vegetables (spinach, kale, chard, endive, arugula) contain high percentage of calcium and magnesium and vitamin K? Which are badly needed for the bones.
Using a lot of milk (products) is less healthy than you thought.
An advice that milk is good for the bones has been outdated by the facts for some time. We can say that the use of large quantities dairy products and a high dose of calcium supplementation, causes osteoporosis rather than occurs. A number of studies confirm that (1, 2)
Smoothies for healthy intestinal flora
You can put all kinds of fruit and vegetables in the smoothies. This is good food for your intestinal flora. Healthy bacteria like a diet rich in fiber, including whole grain products and vegetables such as spinach, kale, broccoli, carrots, chicory and asparagus.
Note: Start with small portions. If you have bowel problems, get your bowel treated first or get it stool examination have it carried out.
On Radio L1
In 2013 I was invited to Radio L1 to talk about green smoothies. Well… my Dutch wasn't perfect yet and I couldn't explain that easily… but I did it 🙂 Now I could tell you a lot more about the green leafy vegetables for our health.
Green smoothie recipes beginners with spinach and apple
1 cup of fresh spinach
1 apple
1 glass of water
Put all ingredients in the blender and add the water last. Add some more water if necessary. In addition to iron, spinach also contains copper, zinc and vitamins A, B and C.
Green smoothie for advanced users (2 pers)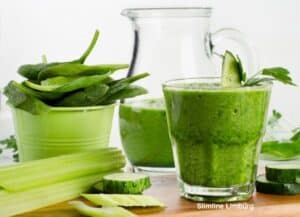 2-3 handfuls of lettuce or kale
2 stalks of celery
1 kiwi
1 banana
handful of parsley or cilantro
water (amount again depends on the thickness of the smoothie)
You can actually use all types of vegetables and put fruit in the blender. With a green smoothie the ratio is 60% vegetable and 40% fruit. Here too you can gradually increase the percentage of vegetables. Also adding 'superfoods' such as goji berries, inca berries, cocoa crisps, nuts, avocado, ginger etc. can be a wonderful addition!
Have fun blending!

green smoothie recipes beginners